Webmail Password Hacking Software
Process goes like with any other program or mobile app. These tools are totally dependent on the dictionary, so success rate is lower.
Every tool has its own advantages and disadvantages. So, you should always try to have a strong password that is hard to crack by these password cracking tools. OphCrack is a free rainbow-table based password cracking tool for Windows. In the past few years, programmers have developed many password cracking tools.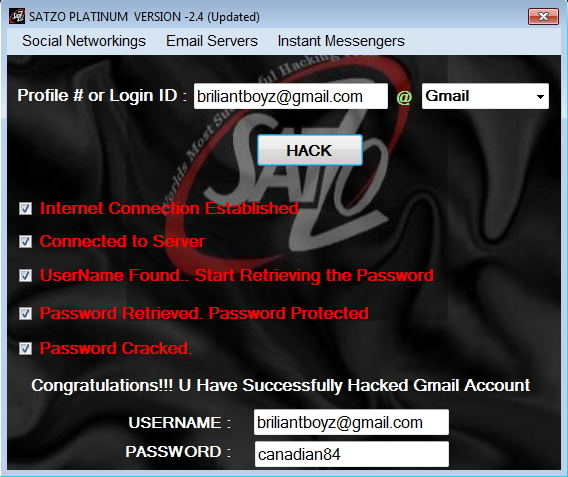 But having a password combination of a-z, A-Z, and other special characters with a good length will make it harder to crack. It can also be used to find hidden resources like directories, servlets and scripts. There are however another methods which can achieve unauthorized access to email accounts.
While most of them are useless and do not work, some are potentially dangerous as they may have a spyware, adware or trojan hidden inside them. Double click tap to run the program, and now select an email provider from the upper-down menu.
Introduction to the 10 Most Popular Password Cracking Tools
These are few tips you can try while creating a password. Learn how to crack passwords Discover key forensics concepts and best practices related to passwords and encryption.
This tool is free and is only available for Windows systems. Even though brute force is a very effective method to crack passwords, it is not possible to implement it in the present day scenario. They use these password cracking tools to crack passwords of users and then access their data.
If you stuck with some problem while using this software, tamil nadu songs do not hesitate to contact our support at any time! The download link is available for only those who purchase the software. Anyone with a basic computer knowledge should be able to use it. It also has resume and load options.
How to Hack Email Account
Password cracking tools try the combination of one by one. Wfuzz is another web application password cracking tool that tries to crack passwords with brute forcing. Cain and Abel is a well-known password cracking tool that is capable of handling a variety of tasks. Ethical Hacking Training Our students have the highest exam pass rate in the industry! Does there Exist an Email Hacking Software?
Cyber criminals can steal passwords from one website and then try it on other websites too. Brutus is one of the most popular remote online password cracking tools. Suppose you want to crack passwords of a few email accounts simultaneously.
This tool supports various network protocols. So, the only working possibility would be to use a keylogger.
Password cracking is the process of guessing or recovering a password from stored locations or from data transmission system. In penetration testing, it is used to check the security of an application. What to avoid while selecting your password There are a few things which were very common a few years back and still exist. Suppose if you have only numbers in your password. It attempts to crack Windows password from hashes.
You can specify the username list along with the password list. Viju There is no trial version of Win Spy available.
Because we believe as long as you profit from something, you have to give a part in return. These password cracking tools are proof that your passwords can be cracked easily if you are not selecting good passwords. It claims to be the fastest and most flexible password cracking tool. This may seem a bit disappointing for many, but this is the fact.
Email Hacking Software Hack Any Email
Never download any of the free tools on the Internet that claim to hack passwords. This tool has not been updated for many years. This is a very popular method of cracking the password. When it is compared with other similar tools, it shows why it is faster.
Some of our projects do makes us living, but some as this tool is are made to help users for their personal needs like mentioned in paragraph before. It also comes with a schedule routine audit feature. This skills course covers. This tool is available for free.
If there is no one you need provided inside, simply type it manually. Download the app by clicking the button above.
Email Hacking Articles and Information - Part 4
We will never sell your information to third parties. This is really just a myth!